Deep topics in small packages - easily accessible
Opening innate capacity for wisdom and compassion
Offering in-depth support for a richly rewarding and happy life
Publications
Books
Nutshell Publication's initial offering is Being Prayer-Transforming Consciousness: Good News of Buddhist Practice. This book has its own website: www.beingprayer.com
Practice Books
... are personal guides to help develop your own consciousness, integrating mindfulness and awareness into daily life, in your functional existence. They are also a record book of your journey you will want to refer to in later months or years. As your skill and wisdom unfold, you may also wish to work with them again from a more enlightened perspective, gleaning continually greater appreciation for the joy of a committed spiritual practice.
Practices are presented in discrete and manageable steps. Though booklets are set up for seven days, these seven days need not be back to back, or confined to one week completion. Move at your own pace. Watch your mind lighten and brighten. Live fully and enjoy the precious life you have.
Excellent support for both new and experienced practitioners

Introduction and deepening of meditation practices in small increments

Non-sectarian instructions

Compatible with any spiritual tradition

Supplemental guided meditations in audio format are available but not required

Valuable and beautiful record and memory books
A pleasure to use and joy to give as gifts for companions on the way
With these practices we become intimate with our own immediate experience and come to see that things are not as substantial as they seem. We expand consciousness and the way we use mind, embracing happiness and contentment, making every day of life interesting and deeply satisfying.
Transforming Consciousness Series

This series can be used in several ways:
as an independent study

as a way to integrate your meditation practices into all life experience

a companion to Insight and Mindfulness courses (use before, during, or after the class)

as a refresher course long after an early experience with the practice

as companion to the book Being Prayer

as companion in individual work with a teacher, therapist, sponsor, or spiritual director

Click here to purchase Practice Book One from our Online Store.
Publisher: Nutshell Publications, Houston, TX
*Additional Series will be listed as they become available.
CDs
Our first CD is a media CD - it is intended for use on your computer rather than for playing as an audio CD on you CD player. See more information about this CD at on this site: goingbeyond.html Below under Digital Formats are individual mediations derived from this CD course available in downloadable MP3 format.
Media CD's are intended for use on your computer rather than for playing as an audio CD on your CD player. Use it on your computer like a private website to read directions, follow online links, and download and copy workbook pages. Listen to audio files in the form of MP3 files. This CD is the first in a series titled Going Beyond what you Believe to be True. This first course is titled Going Beyond - First Steps.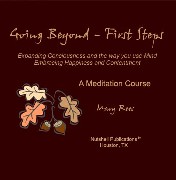 Available only on this site!
Going Beyond - First Steps
A Meditation Course
First in a series
Digital Formats - Downloadable
Audio files - Guided Instructional Meditations from Mary's meditation courses and CDs.
Some titles are offered in varied levels of difficulty.
Audio Files
- free stream or download
Audio Files
- $3 unless otherwise specified
Guided Instructional Meditations taken from Mary's meditation courses and CDs. The CDs also includes explanations, discussion, teacher access, and practice pages. Meditations are offered as if you are new to meditation. Extend your sitting time after listening to the guided practice. Listen to the recording only as many times as necessary to do a practice on your own. You can revisit the guided meditations periodically to see what you might have missed.
Going Beyond - First Steps (guided meditations from Going Beyond series - See also ADD Atlernatives)
Making Contact with Body and Breath
A guided meditation with instructions that bring you into intimacy with your own body and into direct contact with immediate experience - an essential skill in being present and awake to any and all moments of life.
Body Scan
Open to spaciousness and insubstantiality - even of the body. We generally take everything to be more substantial than it is. This meditation to introduces you immediately to the freedom and direct experience of things being softer, less rigid than they seem - and the beginning of seeing things as they really are.
Establishing Concentration
This third guided practice is an important step in your process - a meditation that is central in training the mind and a basis for what follows.
Stabilizing Attention and Finding Balance
The previous meditations develop both focus and flexibiltiy of mind. Stablilizing Attention and Finding Balance are the means of using attention skillfully, something we have seldom otherwise been taught.
E-books and E-docs - Various formats, including online courses, courses delivered via email, articles.
Being Prayer--Transforming Consciousness
- the book available for download chapter by chapter. Read on your computer or print on paper. Print back and front of paper and fit page. The text will be identical to book, but in large print format.
Prepublication - Early Listings by General Themes:
These listings are writings by Mary Rees in pre-publication status. All are copyrighted but may be reproduced with credit clearly given to author and this website. Some items listed are already free or offered for donations only.
(Back to Top)
© 1998 - 2016 Mary Rees || Last updated: